(South Bend, IN) – Holladay Construction Group continues to live by its motto of "Creating solutions. Building relationships.", with our growing relationship with Teacher's Credit Union (TCU), Indiana's largest credit union with more than 50 branches throughout Indiana and Southwest Michigan.
Our relationship with TCU began in 2010 when we contracted with the credit union to build their 45th branch in Granger, IN. When construction was completed and the building opened in May, 2011, Holladay received a wonderful letter of recommendation from Richard Rice, who was the Chief Executive Officer of TCU at the time.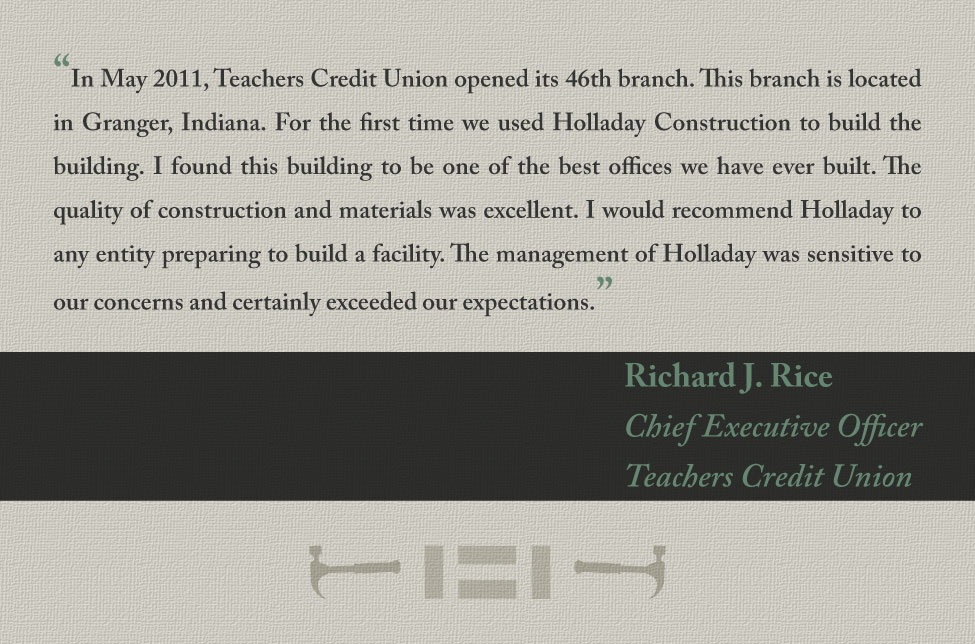 In 2013, Holladay Construction Group worked with TCU again on the renovations of two branch locations in Mishawaka. We worked with the Holladay Properties design team in South Bend to complete the interior remodels for the McKinley and SR 23 branches.
Since then, Holladay Construction Group has performed numerous projects representing over $3 million in construction for TCU. These projects have ranged from small repairs, to branch renovations, to new build-outs in cities throughout Indiana including South Bend, Chesterton, Hammond, Plainfield, New Albany, and Indianapolis. 
Currently, we have two projects under contract for TCU valued at over $6.5 million and we look forward to continuing our positive relationship with this noted, Indiana-based company.