Holladay Construction Group continues to live by its motto of "Creating solutions. Building relationships." with our growing relationship with FedEx Supply Chain (FedEx), a major third-party logistics provider supporting businesses of all sizes, from e-commerce order fulfillment to enterprise warehouse management.
Our relationship with FedEx began in 2019 when we executed a Design-Build agreement with the firm for a $1.3 million, 5,300 SF interior building at the World Connect 3 logistics facility located at 5425 Exploration Drive in Indianapolis, IN. The project involved the design and construction of warehouse and office space including installation of a fence and gate surrounding the tenant space within the overall building, the addition of a dock door, man door, and dock stair, and the installation of new employee entrance doors. 
The FedEx Supply Chain tenant improvements at World Connect 3 were completed at an accelerated scheduled within just four months. Construction began in March 2019 and was completed in July 2019. 
Soon after, in August 2019, FedEx again contracted with Holladay Construction Group for an $820,000 tenant improvement project at 650 Commerce Parkway in Greenwood, IN. The schedule for this project was again accelerated and took place between August and December 2019. 
Since then, Holladay Construction Group has performed a couple of smaller projects for FedEx including an emergency relocation in Hixon, TN. In March, the Holladay team including Pete Fromelius and Mike McGee, got a call to come down to look at temporary IT room that needed to be relocated from a building that was destroyed by a tornado.  They got on the road the day after the call.
Holladay worked with FedEx IT to come up with a scope for the new IT room. The plan involved room construction, all new wiring, new generator installation and finally the daunting task of switching the power over. The project was completed without a hitch and earned our team some extremely positive feedback from the FedEx team.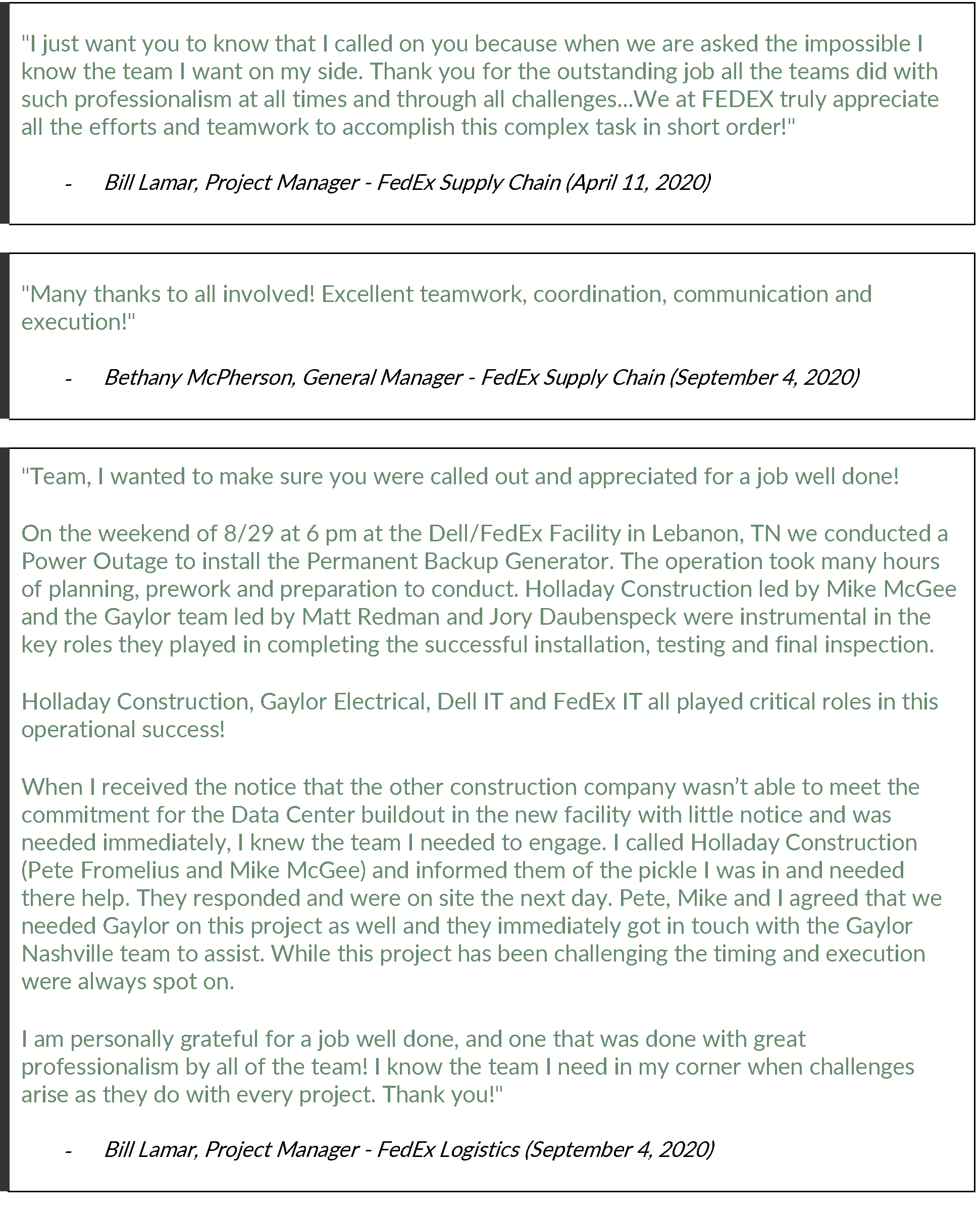 Currently, Holladay is working with FedEx on the Warby Parker TI. Holladay's work include demolition for process piping and installation of new restroom facilities. This project also needed to be performed at an accelerated schedule and is nearly complete.
We look forward to continuing our successful relationship with FedEx, a firm that expects excellence but is a fair and gracious client. Our projects for FedEx are nearly always at an accelerated schedule, but FedEx is always very appreciative of our efforts and the finished product.
Contact us today for your opportunity to build a relationship with Holladay Construction Group.